Derriaghy Station Improvements
Derriaghy Platform Extension
Translink have recently introduced 21 new Class 4000 carriages to our network which complements our existing fleet and will enable the conversion of a number of our current three carriage trains into six carriage trains.
This will allow for additional capacity across the NI Railways network at peak times and help to encourage greater use of public transport as people return to workplaces, education, and social and leisure opportunities. This reflects a growth in passenger numbers in recent years and we anticipate that more people will be willing to make the switch to public transport as part of a wider drive towards a sustainable recovery in the years ahead as we progress towards a net zero public transport system by 2040.
We want to harness a permanent modal shift towards greener, eco-friendly transport - offering increased capacity across the network and providing greater choice for passengers is a key part of that strategy.
What We're Proposing
The platforms at Derriaghy Train Station are each currently long enough to accommodate three carriage trains only. To accommodate six carriage sets and increase capacity, they will each need to be around 150m in length. Translink intends to extend both platforms at Derriaghy to allow six carriage sets to call at the station.
A planning application for the project has recently been approved by Lisburn and Castlereagh City Council. It will see the removal of the existing Belfast-bound platform and relocate it to the opposite side of Queensway. This will facilitate a new 146m long platform with enhanced accessibility.
We will also extend the south-bound platform by 44m southwards to ensure that it meets all required standards, providing opportunities for six carriage sets to stop.
As a vital public service, Translink is committed to delivering high quality sustainable public transport that is crucial for the economic, social, and environmental wellbeing of Northern Ireland. We help to keep people connected to employment, education, retail, social and leisure opportunities, as well as provide opportunities for visitors.
Recent years have witnessed an increase in passenger numbers travelling to and from Derriaghy Train Station, and there is a need to progress increased capacity at the station to meet present and anticipated future demand.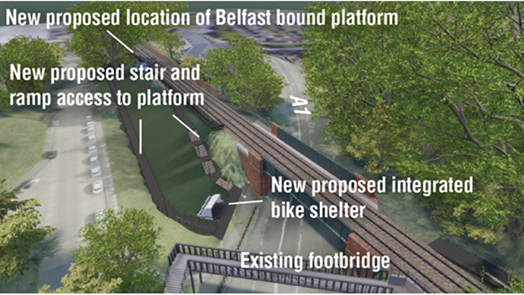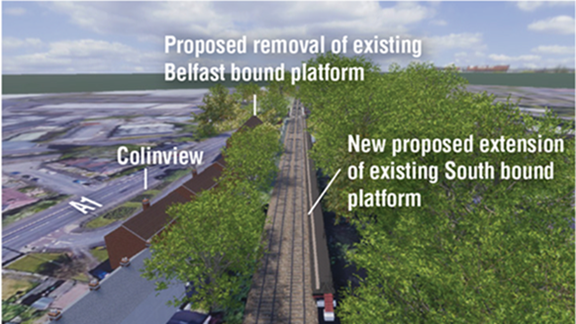 Project Benefits
Train services with six carriages will be able stop at Derriaghy Station, in both directions.
Increased passenger capacity on the NI Railways network, helping more people get back to the workplace, education and retail, social and leisure opportunities.
Increased Translink investment in the public transport network to help drive a sustainable future.
Improved access to Belfast-bound platform with incorporation of an accessibility ramp.
Indicative Project Timeline
March 2021: Planning Application submitted to Lisburn and Castlereagh City Council.
October 2022: Planning permission obtained from Lisburn and Castlereagh City Council.
July 2023: Construction works commenced.
Spring 2024: Project completion.
Derriaghy Public Information Day
Translink will be holding a public information day to discuss with local residents and passengers the plans for the new platform extensions at Derriaghy Train Station.
The Translink team will be hosting the public information day on Wednesday 23rd August between 1-3pm and 4-7pm in the Kilmakee Activity Centre, 52A Rowan Drive, Dunmurry, BT17 9QA. This is an opportunity for members of the public to call in and speak with the project team about the platform improvements.
Public Consultation
We will keep in touch with the local community as this project progresses, letting you know more about our construction methods, our timescales and exactly when we'll be working. We will do this through a variety of means such as letter drops and through online.
We are grateful for your support for our efforts to deliver a better rail service for everyone, helping make public transport first choice for travel, for today and for tomorrow.
You might also like
Still having a look about? You might also be interested in this...
Improvements and Projects
A number of exciting investment projects are already underway that will contribute to the transformation of our public transport network.