Representing an Investment of Around £27m
Funding for this major project has been secured from the EU's INTERREG VA Programme, administered by SEUPB with support from the Department for Infrastructure and the Department of Transport in Ireland, as well as from Derry City and Strabane District Council.
The North-West Transport Hub in Derry~Londonderry has been in operational use since October 2019. The project fully completed, following works to provide a 100-space park and ride site (including accessibility parking and e-charge points), a bus turning circle and additional greenway works, in November 2020.
The new bus turning area makes it easier to drop off and pick up passengers, while those that prefer to walk or cycle can easily use the new Greenway path linking the Hub to Foyle Street Bus Station and the city centre via the Peace Bridge.
The ambitious cross-border project has the potential to transform travel across the North-West region, encouraging a modal shift in transport habits as we seek to build a 'green recovery' in the aftermath of COVID-19.
Constructed to a design by John Lanyon in 1873 for use by the old Belfast and Northern Counties Railway, the building served as one of Derry~Londonderry's main railway stations for over a century before closing in 1980. The building has been restored and repurposed for use as a 21st Century transport facility while retaining its' 19th Century charm and appeal, and is intended to act as a key gateway to the city and wider North-West region.
The Hub is a major scheme that will be a key portal for the North-West region, supporting business, leisure and tourism opportunities, as well as acting as a vital community space for everyone in the city. The project also protects the iconic Victorian station building and will be a catalyst for development in the wider Waterside and Duke Street area.
The facility also offers a unique and vibrant area within the building, an open space where communities and organisations can share their stories, a venue for classes and events or a space to present new ideas. This is a major feature in a building that is a part of Derry~Londonderry's fabric.
Translink would like to thank our funders for their support and essential funding to deliver this major project, and to acknowledge the work of the Translink project team and our construction partners Farrans. We would also like to thank the community and commuters of the North-West for their support and we look forward to seeing many more people travelling with us as we come through this pandemic.
Key Facts
Regeneration of the former Grade B-Listed Waterside Train Station
New Track, Signalling and Telecoms work associated with the Hub
New Greenway link to the City Centre and Foyle Street Bus Centre via the Peace Bridge
Active and Sustainable Travel Centre including information point, training facilities and secure bike parking
Approximately 100 spaces for Park & Ride
Current Train Station to be demolished and the site to be redeveloped as a bus turning circle
New Track, Signalling and Telecoms work associated with the new Hub
Integrated facility for the provision of rail and cross-border bus services
What are the Benefits?
Improved passenger amenities, providing a station that is fit for purpose, comfortable and has capacity to facilitate future passenger growth and encourage a modal shift.
Enhanced community space.
Improved connectivity in the North-West by integrating multimodal forms of transport.
Encourages participation in walking and cycling linking the Hub to the City Centre and the wider Greenway network.
Protects the built heritage of the iconic Grade B listed Waterside Train Station.
Regeneration of the area around the current and former Waterside Train Stations.
Enhanced Park & Ride facilities
Civic and Community Space
Changing Places
Changing Places facilities are fully accessible toilets, designed to provide sufficient space and equipment for people who find it difficult to use the toilet independently. They must be an extra facility, in addition to the accessible toilets for independent use.
A fully equipped Changing Places facility is available for use at the North-West Transport Hub, and staff will be very happy to assist the public with any queries they may have about its' use.
Community Space
The North-West Transport Hub marks a major new beginning for public transport in the North-West region, as well as providing the local community with an innovative new event space. Since opening to the public during October 2019, the restored 19th Century building has played host to a wide range of events, including Hallowe'en and Christmas festivities, choirs and other community festivities, with a diverse group of organisations including Foyle Search and Rescue, Children in Crossfire, Simon Community, Momentum Community Choir, Foyle Deaf Association and the Pink Ladies taking advantage of the space.
Local organisations seeking to book an event in the community space at the North-West Transport Hub, email northwesthub@turley.co.uk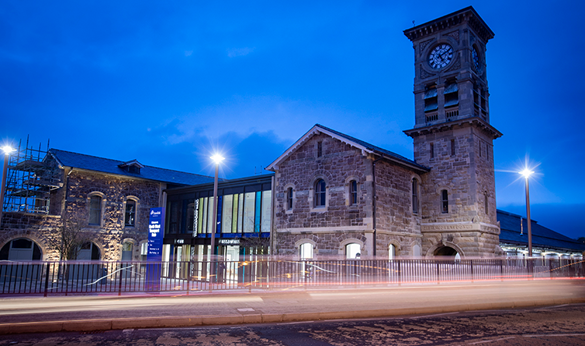 More Information
For more information on the project visit
You might also like
Still having a look about? You might also be interested in this...
Improvements and Projects
A number of exciting investment projects are already underway that will contribute to the transformation of our public transport network.
Get On Board
We are trying to show you just how awesome public transport really is. We want you to be proud of your local public transport service.