Public Consultation
The Translink Team held a public information day on the Lisburn Area Renewals project on Tuesday 28th March 2023 in The Bridge Community Centre between 1-3pm and 4-7pm. This event provided the opportunity for local residents and stakeholders to meet the project team and ask any questions they had regarding the project.
A webinar on the project is available to view here. This webinar was recorded on the 5th April 2023.
We will keep the local community updated as this project progresses, letting you know more about our construction methods, our timescales and exactly when we will be working.
Why is Engineering Work Needed?
The Lisburn Area Renewal (LAR) project is a track renewal project spanning from Lambeg Station (2.5km north of Lisburn Station) to Lissue level crossing (3.5km south west of Lisburn station).
The various elements of this project will ensure high safety standards and operational performance are maintained, in turn helping to increase the reliability of the service and reduce future maintenance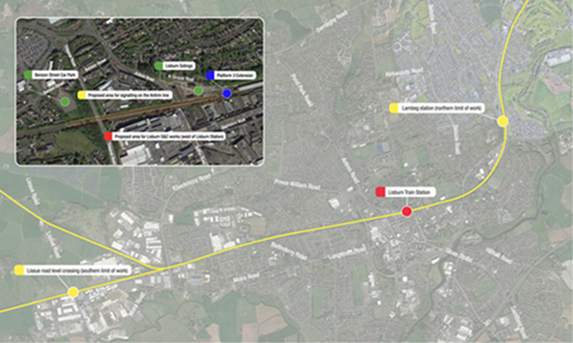 Project Elements
The three main elements of the project are as follows:
Upgrades to Signalling: Replacing older wiring around the Route Relay Interlocking (RRI) location with new equipment will maintain operational performance. Signalling improvements on the track will also help future-proof the railway network.
Switches and Crossing (S&C) Units: Improving the track layout will make it easier to maintain, leading to less disruption. Removal of the 40mph speed restriction west of Lisburn Station will also reduce journey times for passengers.
Platform 3 Extension: This will facilitate easier access to the new trains at the platform, offering more space and more capacity for local passengers
Indicative Project Timeline
October 2022
November 2022

29 hr closure of platform 3

January 2023
March 2023

Three 29hr closures of platform 3

April 2023
September 2023
October 2023

29 hr line closure and 54 hr line closures

Christmas 2023

8-day line closure between Christmas and New Year

Spring 2024

Project complete and compound demobilisation

(NB dates subject to change)
Impact of the Works
The work will be undertaken in a series of smaller prioritised line closures as well as nightworks to help reduce disruption.
We are also mindful of the need to ensure public transport into Belfast city centre is maintained. During all line closures, a temporary timetable with bus substitution services will operate ensuring public transport routes are maintained.
The two main work compound sites which will be in use throughout the duration of the project are at Benson Street Car Park and Lisburn Sidings.
Mitigation measures will be implemented to minimise impact and disruption. e.g. noise attenuation, timing of deliveries, appropriate management of site compounds and considerate working by contractors at all times.
Working With the Community
In line with our SPIRIT principles, we are responsible for our actions. We are good neighbours and corporate citizens in the communities where we operate.
We have already started to engage with the local community and elected representatives to explain how the works will be carried out and what to expect. This will continue throughout the duration of the project. We also hope to support local community initiatives which will leave a lasting legacy associated with the works.
We will use a range of in-person events and digital platforms alongside leaflet drops and presentations. We also have a community helpline set up with our contractor, Babcock Rail. If anyone has concerns with how the works are being carried out, they can contact the contractors dedicated control centre on 020 8629 5060, then option 5 (Rail Systems), then option 1 (Translink).