Search For a Vacancy
We offer a range of permanent and fixed-term opportunities, find a role that will help you build an exceptional career.
Search For a Vacancy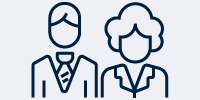 Employee Login
Are you already an employee of Translink? Log in to CoreHR to search for vacancies or continue with an application.
Staff Log In
Why Work With Us?
Our employees are our number one asset which is why Translink always aims to recruit, retain and motivate the best.
Career Development
Translink understands the importance and value of investing in their employees development and are ready to help you successfully grow with the company.
Staff Benefits
As an employee you'll benefit from top of the range training along with a competitive salary, competitive annual leave and a friendly working environment.
Pension Scheme
Our pension scheme is the Northern Ireland Local Government Officers' Superannuation Committee (NILGOSC).
Investing in the Future
Translink is committed to taking responsibility for our own activities on customers, suppliers, employees, stakeholders and communities.
Equality, Diversity and Inclusion
Translink is an Equal Opportunities Employer, committed to creating a workplace that has an inclusive culture to ensure we attract, retain and develop a diverse range of talented individuals.
More on Equality, Diversity and Inclusion
Our Values
The Translink SPIRIT values are guiding principles that are part of our culture to enable us to lead, inspire and succeed in delivering our services.