Meet an Apprentice
A real job offering hands on experience
Kevin Doherty
Year 3 Apprentice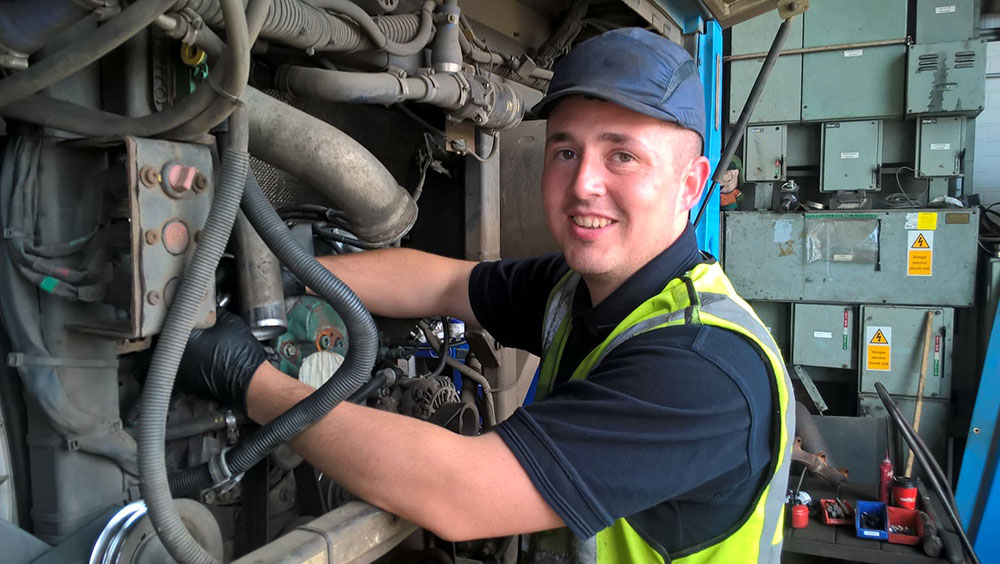 Give a brief outline of your career to date
I studied Advertising & Marketing at the University of Ulster where I graduated with a 1st class honours degree. I then worked within the marketing industry as a Marketing Executive for a number of different companies. Unhappy working in an office based role within the Marketing Industry I decided to seek a career change. I always had an interest in all things engineering and mechanical so I sought a more hands-on career. I began looking for courses and opportunities to enable me to retrain when I came across the Translink Apprenticeship Programme. I thought this would be a great opportunity as it offered on the job experience, qualifications whilst earning a wage. I am currently a 3rd year apprentice based in Coleraine.
Is this what you always wanted to do?
Having grown up with a keen interest in all things engineering and with my father being a HGV mechanic I always imagined myself in this line of work. However (for some unknown reason) I ended up going to university to study marketing!!
Where there any particular essential qualifications or experiences needed?
For the apprenticeship programme a minimum of 5 GCSEs at grade C or above or equivalent including Maths and English was required.
Are there alternative routes into the job?
There are often opportunities for already qualified engineers to enter this position.
What does a typical day entail?
A typical day as an apprentice can be varied as you get a wide range of experience working in different areas and as part of different teams. This can include carrying out scheduled safety inspections, preparing buses for PSV or diagnosing and repairing buses that have broken down. You get a wide and varied experience of all aspects of maintaining the fleet whilst working alongside an experienced member of the team.
What are the best and most challenging aspects of the job?
One of the best aspects of the job would be the fact no two days are the same, this keeps the job challenging and interesting. There is also great job satisfaction when you carry out repairs and the bus is able to get back on the road; you see that your hard work has paid off. The most challenging aspect can be the diagnosing of complex faults- due to rapid technological advances faults are becoming more complex and often require much more diagnostic techniques in order to track down the issue.
Why is what you do important?
Translink offer/provide vital services to many members of the community and for these services to run as efficiently as possible it is important that the buses are kept to a high standard and are safe to be on the road. The role of an engineer is important as it involves maintaining a safe and reliable fleet of vehicles for customers to use.
What advice would you give anyone looking to follow a similar career path?
If you know that this is what you want to do, then go for it. An apprenticeship is a great way to get into the industry. It gives you an opportunity to learn and gain qualifications whilst getting the all-important on the job experience and gives you the chance to earn while you learn.
What's the one piece of advice you would give yourself on your first day?
Don't get overwhelmed - it's a lot to take in but with great support you will settle in and start learning very quickly.
And finally, what's the key to any successful job search?
Having confidence in yourself, your ability and having the determination and motivation to keep going, even if unsuccessful at first.
Apprentice Profile
Minimum Criteria
All applicants require a minimum of 5 GCSE's at grade C or above (or equivalent qualification) including Maths and English or be expecting to receive these by August 2021
Minimum of grade B in Maths is desirable for Civil and Structural Engineering
Experience of using Microsoft Office packages
Able to demonstrate examples of a practical hands-on approach
Team player with a positive attitude
Committed, self-motivated and willing to respond to the needs of the Apprenticeship scheme
Excellent communication skills
Understand how to provide an excellent customer experience
Aged 16 years old or over on or before the 1st August 2021 for Engineering Apprenticeships
Aged 18 years old or over on or before the 1st August 2021 for Infrastructure & Projects Apprenticeships
Desirable Criteria
Minimum of a grade B in GCSE Maths (or equivalent qualification) is required for Civil and Structural Engineering Apprenticeship
Recruitment Process
Online application form
Online aptitude tests
Interview
Pre-employment references, qualification and medical checks (if successful)
A Day in the Life of an Apprentice
Check out our vidoes on a day in the life of our Engineering Apprentice Ciara, and Body Trade Apprentice Matthew.