Meet an Apprentice
A real job offering hands on experience
Ciara McIlroy
Year 1 Apprentice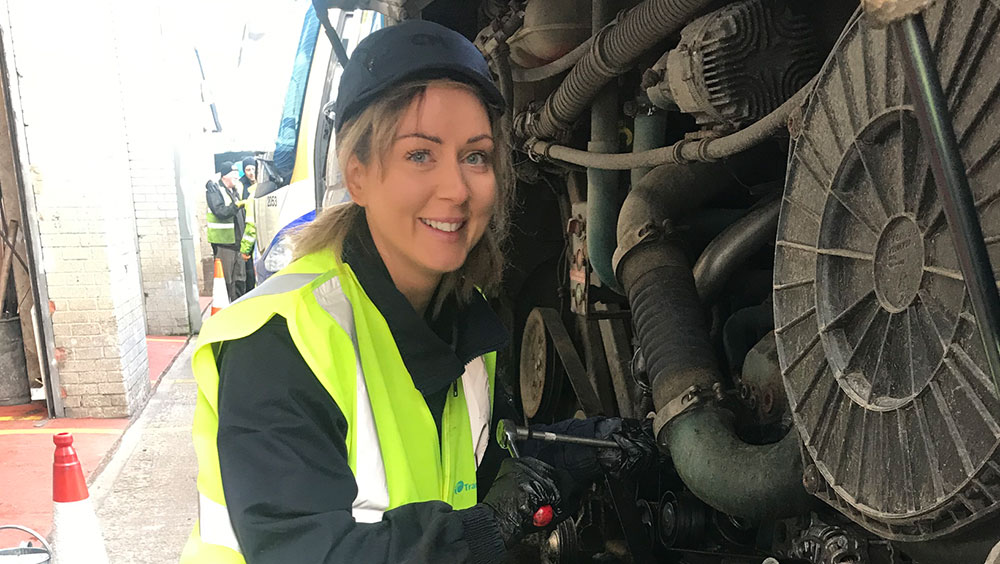 Give a brief outline of your career to date
After completing my A-levels at school, I went to Belfast to study Business (HNC). Although I found Business interesting, I realised that I didn't like the idea of sitting in an office 5 days a week. Therefore, I began looking for another career path which led to an NVQ in beauty, as it was a hands-on job. Once qualified, I moved to Australia, it was there that I realised I was more suited to a career working outdoors. Railway life appealed to me so I completed some courses to pursue a career in the Australian railways. I qualified as a level 2.2 Hand Signaler before progressing to a level 3.1 Track Force Coordinator (safety). Following this, I was offered a job to work in the Engineering Department, maintaining track in the north-west of Melbourne. This enabled me to work both in the office and out on the track as a Track Support Officer. After a year in Australia I decided to come home. It was then that the opportunity to pursue a career in Engineering with Translink arose.
Is this what you always wanted to do?
I didn't know what I wanted to do but I knew I wanted an active job. Once I commenced training as a Heavy Vehicle Technician I knew I was in the right place.
Where there any particular essential qualifications or experiences needed?
To get into the Translink apprenticeship programme I needed 5 GCSEs to successfully pass an aptitude test and to undergo an interview. I believe that my farming background and experience working around machinery on the railways in Australia helped me at my interview.
Are there alternative routes into the job?
You can go to college to study Heavy Vehicle qualifications then apply as a qualified Fitter when jobs become available and are advertised on the Translink website.
What does a typical day entail?
Doing 4 week safety checks, getting buses ready for PSV and any unscheduled repairs on a bus.
What are the best and most challenging aspects of the job?
I find the job very interesting, the best part is getting involved in engine services and changing brake discs/pads. The more you do them the easier it gets. For me, the most challenging part of the job has been building up my strength as the parts are heavier than a light vehicle but I am getting stronger and all I have to do is ask for help to lift something I feel is too heavy.
Why is what you do important?
Without the engineering department the buses and trains would not be maintained leaving some people without public transport to get them from A-B.
What advice would you give anyone looking to follow a similar career path?
IIf this is a career you really want to get into, then don't give up. There are lots of courses provided by colleges which can help upskill you for an engineering role. Don't let others opinions stop you from pursuing your chosen career.
What's the one piece of advice you would give yourself on your first day?
Don't be afraid to get stuck in and ask as many questions as you need to.
And finally, what's the key to any successful job search?
If you are interested in joining Translink, follow them on all aspects of social media, turn on all job alerts and keep up to date with new roles advertised on www.translink.co.uk/workwithus
Apprentice Profile
Minimum Criteria
All applicants require a minimum of 5 GCSE's at grade C or above (or equivalent qualification) including Maths and English or be expecting to receive these by August 2021
Minimum of grade B in Maths is desirable for Civil and Structural Engineering
Experience of using Microsoft Office packages
Able to demonstrate examples of a practical hands-on approach
Team player with a positive attitude
Committed, self-motivated and willing to respond to the needs of the Apprenticeship scheme
Excellent communication skills
Understand how to provide an excellent customer experience
Aged 16 years old or over on or before the 1st August 2021 for Engineering Apprenticeships
Aged 18 years old or over on or before the 1st August 2021 for Infrastructure & Projects Apprenticeships
Desirable Criteria
Minimum of a grade B in GCSE Maths (or equivalent qualification) is required for Civil and Structural Engineering Apprenticeship
Recruitment Process
Online application form
Online aptitude tests
Interview
Pre-employment references, qualification and medical checks (if successful)
A Day in the Life of an Apprentice
Check out our vidoes on a day in the life of our Engineering Apprentice Ciara, and Body Trade Apprentice Matthew.