Glider
The effortless and smooth way to travel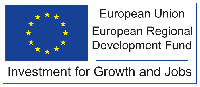 This project is part-funded by the European Regional Development Fund through the Investment for Growth and Jobs Programme for Northern Ireland 2014-2020.​
A New Mode of Travel Delivered in Belfast
Translink has transformed public transport in Belfast in line with our Vision 'To Be Your First Choice for Travel in Northern Ireland.'
We have ambitious plans to deliver excellent bus and rail services that will enhance connectivity and help to unlock the full potential of Belfast as a forward looking, dynamic and ambitious City, driven by talent and ready for investment.
Glider is an innovative mode of travel for Belfast, enhancing the image of the city and inspiring even more people to choose public transport.
Glider, the iconic new face of public transport for the ever-evolving Belfast. Easy to use, frequent, accessible, convenient and still excellent value, it's the service our City deserves.
Introducing Glider
Glider…. the effortless and smooth way to travel, Glide through city traffic and arrive fresh and ready on a modern and high tech mode of travel, providing direct cross-city services between the east and the west of the City and linking into Titanic Quarter. Metro bus feeder services connect Glider passengers to the Dundonald and Colin residential areas.
Representing an investment of over £90m, it delivers high quality, high capacity, bus-based rapid transit system that makes way for a transformational change and a more connected City, bringing people and communities together.
It's About the Experience
The Glider experience is all about ease of use and great value. It's frequent and accessible and connects into the wider Translink bus and rail networks to provide a convenient, integrated network.
25% reduction in public transport journey times
Improvement in journey time reliability
Integration with other forms of transport
Cross-city services - better access to jobs, health, leisure, etc.
Improved passenger safety and security - both on the vehicles and at halts
Attractive alternative to travel by private car
Key Facts
The services operate with a modern eco-hybrid fleet. Catering for more passengers than conventional buses, passengers also enjoy a new ticketing system which speeds up getting on and off the vehicle. Extensive bus priority is in place along the route facilitating fast and reliable journeys. Metro bus feeder services connect Glider passengers to residential areas in the Dundonald and Colin areas.
In passenger service from September 2018
7-8 minute intervals throughout most of the day
25% reduction in public transport journey times
Unified fares with Metro with a focus on ease of use and great value
Operates primarily along bus lanes with selective bus priority at traffic signals
CCTV for safety and security
Real-time passenger information
The Service
Glider provides fast and reliable services connecting East and West Belfast, Titanic Quarter and key locations of economic and social activity in the city centre and along the Glider corridors.
It replaces most of the main Metro services on the routes that it serves: Metro 4 in East Belfast and Metro 10 in West Belfast. Some Metro services, which serve destinations off the Glider routes, continue to use parts of the Glider routes and therefore benefit from the increased bus priority.
Metro bus feeder services are provided with appropriate interchange facilities and co-ordinated timetables. The interchange facilities are provided at Dundonald Park & Ride in the east and at Colin Town Centre Transport Hub in the west.
The Vehicle
With a capacity of around 105 people, the vehicle interiors are constructed using high quality materials and the engines utilise the latest hybrid diesel/electric technologies emitting low noise, low vibration and low levels of pollutants.
Glider vehicles have onboard information screens providing real time journey information and audio visual next halt and destination announcements. Free on-board Wi-Fi is also provided.
105 passengers
18 meters (Belfast average car occupancy = 1.2 people per car)
1 Glider Vehicle = 87 cars
Passenger Priority
Glider passengers benefit from extensive bus lanes along the routes. Where appropriate, Glider services also get priority at traffic signals making way for fast and reliable services.
Forward looking cities are making transformational changes, introducing the right policies, projects and interventions to tackle congestion and implement intelligent, integrated mobility solutions with public transport at their core. This encourages real modal shift that will result in less congested roads for all.
Eco-Hybrid Fleet
An efficient public transport system delivers energy efficient and low carbon mobility. Travelling by public transport is already great for the environment but we also look at our own footprint.
Our eco-hybrid Glider vehicles bring a further step change in helping to reduce emissions and help to improve air quality along the routes. We also invested over £5m in new Metro buses which meet the latest Euro VI emission standards.
These vehicles mean we have some of the most fuel efficient and environmentally friendly buses in the region, helping Belfast City Council to meet its air quality targets.
Belfast Metro
Glider replaced the majority of Metro 4 and 10 services so was an opportunity to redesign our Metro bus network. It is our aim to further simplify and refine our networks to make them more robust, connected and offer faster, more attractive services for our customers.
To do this, we are exploring a range of options that make services more convenient for customers to travel to more destinations easily. These options include more orbital routes and cross-city services. New housing developments in the city also offer new opportunities to improve the overall efficiency of the bus system in line with road infrastructure developments.
Supporting the Programme for Government and the Belfast Agenda
Public transport will be at the heart of a transforming Belfast. The Glider service energises our capital City and enables easy and convenient travel for more people to more places.
Glider is an Executive Flagship Project supporting an energised, well connected Belfast and is a key element in the delivery of the draft Programme for Government. The City Council's Belfast Agenda, a new vision for Belfast in 2035, sets out the following bold ambitions:
to attract 70,000 new residents
double the economic value of out-of-state tourism
attract £1 billion investment towards real estate and regeneration projects
attract £1 billion of private sector foreign direct investment
support over 50,000 new jobs
welcome a further 1.5 million overnight tourist stays per year
Halts & Interchanges
The Glider system introduced new style halts and interchanges, in keeping with the high calibre service on offer.
High quality 'platform' feel
Larger enhanced shelters with real time electronic passenger information
Ticket machines and validators
CCTV
Mixture of seating types
30% fewer stops, around 400m apart facilitating faster, more regulated journeys
Cycle parking at key locations
Key interchanges for Glider are located at Dundonald in the east and Colin in the west. Glider serves both these important hubs and enables interchange with Metro feeder services. The hub at Colin will be part of a wider community facility and the hub at Dundonald is already a well-established Park and Ride site.
Ticketing & Real-Time Information
New ticketing systems commenced with the introduction of Glider. Our ticketing has a keen focus on integration, flexibility and convenience, with customers preferring to use products like mLink - mobile phone ticketing.
We are planning further enhancements to make things even more convenient. Options will include contactless payment cards on bus, e-purse payments and ticket vending machines, all making going by bus, Glider and train even easier. We will also be introducing new online / app ticket purchases and smartcard top-ups.
Make it in Real-Time
We already had real-time passenger information available for Metro through our journey planner and online and this technology is now available for Glider.
Real-time information will also be made available through the NI Open Data portal to enable third parties the opportunity to explore further innovations and help us to find even smarter and better ways of delivering and promoting shared mobility services.
A New Era in Translink Tickets
Following extensive research and consultation,
Translink Future Ticketing System (TFTS)
has been carefully developed to transform our passenger journey experience, meet changing customer needs and attract more people on board bus and rail services. The Glider service provides;
Off-vehicle ticketing - buy ticket or validate smartcard before you travel.
Speedier boarding & journey times
Vending machines / validators at every halt
Guide to Glide
The Glider G1 service operates a direct cross-city service between east and west Belfast and the Glider G2 service operates between Belfast City Centre and Titanic Quarter.
FAQs
Got a question about our Glider service? We might have already answered it.
Find Out More